Apenas online
(Midia Digital) The Lego Movie Videogame + Xbox Live Gold 3 Meses - Xbox One
através da compra deste produto você pode ganhar até 2 pontos de fidelidade. Seu carrinho vai fornecer 2 pontos de fidelidade que podem ser convertidos em um cupom de R$ 2,00.
Cálculo do Frete
Aguardando CEP
(Midia Digital) The lego VideoGame. Transforme o comum em extraordinário e experimente a experiência de construção final LEGO de todos os novos filmes e Videogame da LEGO®.
10077
Novo
Envio em até 48 horas
Aviso: Últimas unidades!
Data de disponibilidade:
Descrição do Produto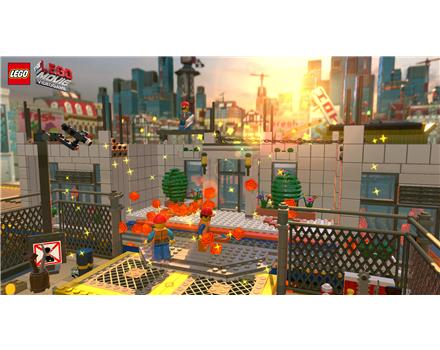 Versão Digital
Entre no mundo de Emmet, um ordinário, regras - seguinte, cidadão perfeitamente comum que é erroneamente identificado como a pessoa mais extraordinária para salvar o mundo.
Jogadores irão guiá-lo como ele é convocado para uma comunhão de estranhos em uma jornada épica para parar um tirano mal, uma viagem para a qual Emmet está irremediavelmente e hilariamente despreparado.
Características do Jogo:
Desfrute de uma deliciosa mistura e surpreendente de mais de 90 personagens como pode ser visto a partir do filme, incluindo Batman, Superman, o ninja verde, Gandalf e mais de 15 níveis emocionantes.
Esmague mais tijolos em um ambiente fascinante feito de tijolos LEGO. Coletar e usar páginas de instruções LEGO para construir.
Viagem por mundos fantásticos, como Flatbush Gulch, Nuvem Cuckoo Terra e muito mais!
Aproveite o poder incrível de mestres construtores para construir praticamente criações extraordinárias LEGO.
Desfrute de um novo estilo de animação, como visto no filme que simula o movimento de conjuntos de brinquedos LEGO.
Jogue com amigos e familiares usando o jogo drop-in/drop-out co-op fácil que possui tela dividida dinâmica.
Comprando o The Lego Movie (versão digital) você receberá um brinde exclusivo da Racer
Uma assinatura da *Xbox Live Gold 3 meses!
Confira aqui na Racer Entretenimento!
Ficha Técnica
| | |
| --- | --- |
| Faixa Etária | 10 Anos ou Mais |
| Região do Jogo | Todas as Regiões |
| Número de Jogadores | 1 - 2 |
| Jogadores Online | Não |
| Idiomas | Inglês |
* Jogos e Acessórios terão Garantia de 90 dias (Contra defeito de fabricação).
** Consoles terão Garantia de 180 dias (Contra defeito de fabricação).
*** O prazo de entrega é de fonte da logística. Mesmo não sendo comum, eventualmente poderá ocorrer atrasos em eventuais motivos de greves, feriados, congestionamento de carga ou até problemas relacionados a logística que qualquer eventualidade o cliente será notificado.
**** Todos os Produtos são enviados diretamente do Brasil sem riscos de serem taxados.
***** Todos os Produtos são Originais e devidamente Lacrados.
****** Todos os Produtos Digitais (Jogos e Assinaturas) serão disponibilizados através de download com as respectivas instruções diretamente na conta do cliente.
Parcelamento
Parcelamento na Loja Virtual